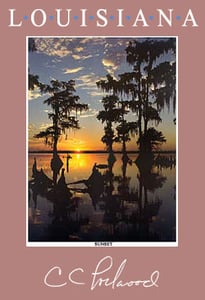 $

40.00
The peaceful sunset glow reflected in the still waters of Flat Lake is C.C.'s most famous photograph. This striking scene will make a valuable addition to your collection. This is the same image that will be on the Louisiana Bicentennial stamp starting in April 2012!
Hand signed by CC Lockwood.
Measures 19" by 28"
Note: Posters come as is, may be slight imperfections, mostly unnoticeable when framed.