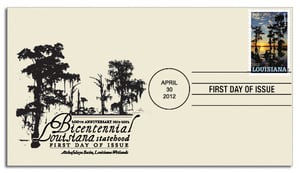 $

6.00
A collectible 6 3/4" First Day of Issue stamped envelope for the Louisiana Bicentennial. This envelope was designed from a photograph of CC Lockwood's. It also features CC Lockwood's Flat Lake Sunset Louisiana Bicentennial stamp.
The envelope and stamp will be canceled and postmarked on the same day of the bicentennial and stamp release: April 30, 2012.
This envelope will be shipped blank inside of another envelope. Inside each First Day of Issue envelope is an information card explaining more about the Flat Lake Sunset image, CC Lockwood, and the collectible nature of first day of issue stamps.
Only 500 were produced.